Published: January 16, 2008
It's all too easy to identify with Richard Hannay as he first appears
in "The 39 Steps," the absurdly enjoyable, gleefully theatrical riff on Alfred Hitchcock's 1935 film. True, the odds are that you're not as deeply, fatuously handsome as Richard (Charles Edwards), or as square of jaw, clipped of diction or cocked of eyebrow.
Sara Krulwich/The New York Times
From left, Charles Edwards, Jennifer Ferrin, Arnie Burton and Cliff Saunders in "The 39 Steps."
Still, there's something about Richard's restless ennui in the first scene of this production, which opened on Tuesday night at the American Airlines Theater, that rings loud and true with New Yorkers sinking into the gray oatmeal of January in the city.
Bored with the tedium of his life, Richard is also fed up with newspapers bearing tales of "elections and wars and rumors of wars." He longs for "something mindless and trivial. Something utterly pointless." His jaw unclenches for a "Eureka!" moment. "I know!" he says. "I'll go to the theater!"
On the evidence of "The 39 Steps," directed by Maria Aitken and performed by a cast of four that seems like a cast of thousands, this is very sound advice. Adapted by Patrick Barlow from both the classic spy movie and the John Buchan novel of 1915, this fast, frothy exercise in legerdemain is throwaway theater at its finest. And that's no backhanded compliment.
A perfect soufflé, after all, requires a precise and confident chef. While the small, heavy-duty ensemble — rounded out by Arnie Burton, Jennifer Ferrin and Cliff Saunders — exudes a breezy effortlessness, its words and movements are governed by an intricate master plan that the plot's hapless double agents and policemen would do well to emulate.
Consider, for example, how Mr. Burton and Mr. Saunders, who shift identities faster than a field of presidential candidates, manage to embody four to six characters within the same seconds-long fraction of a scene, tossing headgear and coats to each other like circus jugglers. Or how Mr. Edwards and Ms. Ferrin walk a trembling tightrope between archness and ardor.
Or how a few battered trunks morph into the interior of — and then the roof of — a speeding train, or a cluster of humdrum chairs into a getaway car. By evening's end, you'll have nearly forgotten that the show's set and costumes (the province of the inspirationally frugal Peter McKintosh, with lighting to match by Kevin Adams) are nearly as spartan as those of a bargain-basement production of "Our Town."
The show was officially called "John Buchan's The 39 Steps" when I saw it in London. It is now more accurately titled "Alfred Hitchcock's The 39 Steps." Aside from its prologue and epilogue, the show hews to the script of the film, which took greater liberties with the Buchan novel than this production does with the movie.
Not that Ms. Aitken and Mr. Barlow's version (based on an original concept by Simon Corble and Nobby Dimon), which won the 2007 Olivier Award for best new comedy in London, have delivered a frame-by-frame breakdown of a Hitchcock masterpiece that would appeal to semioticians. Yes, the show is peppered with gratifyingly groan-making visual, verbal and aural references (via Mic Pool's Bernard Herrmann-quoting sound design) to other Hitchcock films.
(Loved those "North by Northwest" shadow-puppet crop dusters.)
But the appeal here is ultimately more to theater aficionados than to movie buffs, and you don't need to have seen the movie to appreciate the accomplishment of the show. Ms. Aitken and company are using their cinematic template to celebrate the art of instant illusion-making that is theater. Much of the show's pleasure comes from being in on the magician's tricks even as, on some primitive level, you accept them.
There is wit to spare in the original screenplay for "The 39 Steps" (by Charles Bennett, Ian Hay and Alma Reville, a k a Mrs. Alfred Hitchcock), and many of the funniest — and more surprisingly, the raciest — lines in Mr. Barlow's play come directly from the movie. This "39 Steps" isn't using its source material as a satiric target but as an accomplice.
The performers largely avoid direct impersonation of the film's cast members. The masterly Mr. Edwards, the one holdover from the London cast, isn't reincarnating Robert Donat, the suave actor who created the part. Instead he's channeling a whole tradition of gentlemanly but virile heroes. (I don't think it's just because Richard is Canadian that the screen figure Mr. Edwards most reminds me of is the cartoon Mountie Dudley Do-Right.)
Ms. Ferrin, who plays the several romantic interests in the story, does evoke the prototypical Hitchcock blonde in her portrayal of Pamela, a part originated by Madeleine Carroll. But mostly she's doing vaudeville variations on classic love interests: exotic Mata Hari type, wistful country girl.
Playing everybody else, and that's a lot of else, Mr. Saunders (who is a natural offbeat clown) and Mr. Burton are asked to stretch their comic muscles to the snapping point, as well as hefting much of the furniture that coalesces so unexpectedly into all sorts of landscapes. They never appear to sweat it. The exasperation they occasionally show is in the script. The actors themselves seem to be having a helluva good time.
As does the audience. For in addition to providing the relief of being committedly silly in a season of fine dramas about unhappy families, "The 39 Steps" stands out for its plying of minimal resources to maximal effect.
The creators of the bloated spectacles "The New Mel Brooks Musical Young Frankenstein" and "Disney's The Little Mermaid" should take a hard look at "Alfred Hitchcock's The 39 Steps," which packs a lot less ego into its brand-name title. With its cast of four and a brick-wall-backed set, this show flies lightly into an ether of escapism, while its over-produced peers remain stuck leadenly on the ground.
ALFRED HITCHCOCK'S THE 39 STEPS
Adapted by Patrick Barlow, based on an original concept by Simon Corble and Nobby Dimon and the book by John Buchan; directed by Maria Aitken; sets and costumes by Peter McKintosh; lighting by Kevin Adams; sound by Mic Pool; production management, Aurora Productions; production stage manager, Nevin Hedley; general managers, Rebecca Habel and Roy Gabay; associate producer, Sydney Beers; associate artistic director, Scott Ellis. Presented by the Roundabout Theater Company, Todd Haimes, artistic director; Harold Wolpert, managing director; Julia C. Levy, executive director; in association with Bob Boyett, Harriet Newman Leve/Ron Nicynski, Stewart F. Lane/Bonnie Comley, Manocherian Golden Productions, Olympus Theatricals/Douglas Denoff and Marek J. Cantor/Pat Addiss; and the Huntington Theater Company, Nicholas Martin, artistic director; Michael Maso, managing director; and Edward Snape for Fiery Angel. At the American Airlines Theater, 227 West 42nd Street, Manhattan; (212) 719-1300. Through March 23. Running time: 1 hour 45 minutes.
WITH: Arnie Burton (Man #2), Charles Edwards (Richard Hannay), Jennifer Ferrin (Annabella Schmidt/Pamela/Margaret) and Cliff Saunders (Man #1).
Posted on Wed, Jan. 16, 2008
Tribute to 'The 39 Steps' is Hitchcock-amamie
NEW YORK - I was caught wholly off-guard during the first act of The 39 Steps, the goofy adaptation of Alfred Hitchcock's revered and sophisticated 1935 spy thriller that opened last night on Broadway: It bordered on mockery. I couldn't figure why anyone would take such a smart movie and turn it into a shtick-a-minute lampoon.
The Roundabout Theatre Company production is burlesque one moment, melodrama the next - and, always, self-ridicule.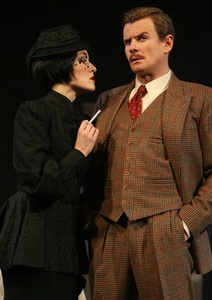 By Act 2, Patrick Barlow's adaptation of the film, and the John Buchan novel on which Hitchcock based it, came clear to me: It's a tribute, in an offhand way, to the film master and to his portfolio. The show is clever and at the same time silly, a dogged spoof of a 73-year-old film that assumes we love, and know, the original. It wears itself out by being technically perfect and emotionally empty. How many overarched eyebrows, supercharged interchanges, and purposely telegraphed laff-lines can we handle in the course of a couple of hours?
You begin to expect all the unexpected stage business from the fabulous cast of four actors who play every role in the film - and I mean every role, because even the bit parts and throwaway lines show up on stage, including the momentary appearance of Hitchcock, among silhouetted stick puppets used at one point.
The script employs, I'd say, 85 percent of the original, and the best way to see the show is to rent the movie and watch it immediately beforehand. The 39 Steps not only picks itself apart, it refers to Hitchcock's other work: A moment under a waterfall (here, a shaking white curtain), which is key in the film, becomes Psycho's shower scene; a sign for a Scottish village is overrun with The Birds.
The production, imported from London, is full of these amusing Oh, look! moments. Director Maria Aitken supplies an arsenal of rat-a-tat physical stage gags, which employ everything from different hats for quick character changes to an unfurled cloth representing a stream to a windowpane that an actor carries, then crawls through.
I found myself admiring The 39 Steps with a sort of academic respect for its technical brilliance - this includes Mic Pool's on-target sound effects, Kevin Adams' lighting, and Peter McKintosh's do-it-yourself set, which the actors maneuver to endless advantage. But I didn't find myself in hysterics, which all this intends.
Charles Edwards plays Richard Hannay, the everyday guy who is dragged into a spy adventure, and he's dashing and agile and always sure you know that this is all a joke. Jennifer Ferrin plays the three very different female roles, and she's excellent in each. Cliff Saunders and Arnie Burton play everyone else, and I hope they're being paid by the character; they are hands-down the most versatile character actors currently on Broadway.
HITCHCOCKIAN THRILLS & SPILLS ADD UP TO SPOOF POSITIVE
By CLIVE BARNES
Rating:
January 16, 2008 -- THE great Spanish playwright Calderon once described drama as "a plank and a passion."
I don't know how much passion there is in the Roundabout Theatre's delightful version of "The 39 Steps" - after Alfred Hitchcock's 1935 movie of the same name, based on John Buchan's 1915 spy thriller - but the plank is truly in place in this inventively astonishing, stripped-down comedy, adapted by Patrick Barlow and staged, as in London's West End, by Maria Aitken.
The play has at least 60 or so characters, here condensed to a cast of four: the hero, Richard Hannay, played by Charles Edwards; three women (Jennifer Ferrin) and the rest played, in dizzyingly rapid succession, by Arnie Burton and Cliff Saunders.
The sets and costumes by Peter McKintosh bring a fresh dimension to the word "basic." A few tables, a telephone, four or five chairs, four highly important trunks, door frames to go through, window frames to slide through, a pair of handcuffs, guns, and smoke, lots and lots of stage smoke, most of it pretending to be Scots mist.
The resultant play is a marvelous spoof of the movie, translating Hitchcock's thrills, spills and visuals into elementary stage effects - even the famous train chase over the top of The Flying Scotsman express, and the dangling hero's scene on Edinburgh's Forth Bridge.
The play's creators have affectionately pushed Hitchcock's brilliance - watch for various homages to such movies as "The Birds" and "The Lady Vanishes" - into some riotous realm of satire, without losing its essentially Hitchcockian flavor.
Aitken, though ultimately in charge of all the fun and games, is much indebted to her actors - Edwards, Ferrin and her two protean clowns, Burton and Saunders.
Richard Hannay was the original square-jawed, tight-lipped English hero, who came from the British Empire and culminated in Bond - James Bond - and Bond's later spy inversion, Sir Michael Caine's Harry Palmer.
Today we see Bond as an action hero with an accent, while poor old Hannay is somewhat of a joke. And it's a joke handsomely played by Edwards, the one refugee from the London production, with just the right pipe-clenching sense of incredulity, while Ferrin makes a smoothly bewildered heroine.
But, as it must be, the real jokes are with the clowns, sent in with virtuoso versatility by Burton and Saunders.
And what of those damned 39 steps? Hitchcock, as was his custom in searching for a plot entry, would have probably called them the story's "McGuffin." So let's leave them at that.
THE 39 STEPS
American Airlines Theatre, 237 W. 42nd St.; (212) 719-1300.
The 39 Steps
Jennifer Ferrin and Charles Edwards
in The 39 Steps
(© Joan Marcus)
The business of spoofing films on stage is a particularly tricky one, as anyone who saw
Debbie Does Dallas
can attest, so kudos are decidedly due to adaptor Patrick Barlow and director Maria Aitken for transforming Alfred Hitchcock's 1935 thriller
The 39 Steps
, now on stage at the Roundabout's American Airlines Theatre, into a highly amusing theatrical event that will both satisfy those audience members who have never seen the film and delight those who are familiar with its cinematic predecessor.
True, this 105-minute work -- which originated with John Buchan's little-known novel -- more often induces smiles than real guffaws; but there are moments of sheer physical genius here that are cause for spontaneous applause, and precious few lapses into sophomoric humor or, worse yet, boredom. Part of its success can be traced to the fact that the play -- which was first seen in London and then came stateside to Boston's Huntington Theatre -- hews rather closely to the movie's screenplay, even lifting large chunks of dialogue. The heightening for laughs is done judiciously, while making sure the story remains reasonably involving.
Indeed, the most significant changes made by Barlow are a cutesy (if arguably unnecessary) prologue and epilogue; a speech that makes all-too-explicit the villain's Nazi sympathies, and, best of all, a number of verbal and physical references to Hitchcock's later films, some of which are side-splittingly hilarious and unexpected.
Shortly after that prologue ends, Richard Hannay (Charles Edwards), a suave and somewhat bored Englishman, agrees to take home Annabella Schmidt (Jennifer Ferrin), a mysterious woman he meets at the theater. Once they're in Hannay's rented flat, she explains she's a secret agent with knowledge of an important military secret who's seeking a hiding place from two men who are after her. While Hannay initially doubts her tale, he's firmly convinced of its truth the next morning when she comes into the living room with a knife in her back.
Instantly, he's off to Scotland to try to clear his name and discover Annabella's secret -- a task that proves even harder than it first appears. Along the way, he encounters a host of characters, both good and evil -- all impersonated by Arnie Burton and Cliff Saunders -- as well as two very different ladies (both impersonated by Ferrin): Pamela, a haughty young woman who twice turns Hannay into the authorities while fighting her obvious attraction for him, and Margaret, an unhappy farmer's wife who helps him escape from the police.
Edwards, the only cast member to come over from London, nicely captures Hannay's vanity, but one suspects the primary reason for his presence is his strong physical and vocal resemblance to Robert Donat, who played Hannay in the film. Similarly, Ferrin -- a former Daytime Emmy nominee for her work on As The World Turns -- has been styled as an almost perfect reincarnation of Madeleine Carroll, who played Pamela. More importantly, she so deftly distinguishes all three of her characters, you might not realize they're being played by the same actress.
In many ways, however, the show belongs to the lanky Burton and the rounder Saunders, whose versatility -- and ability to changes clothes extremely quickly -- is often astounding. A set piece in which the pair play six different characters in about 30 seconds, while constantly changing hats, is both breathtaking and hilarious, and Burton has almost too much fun as the bad guy, Dr. Jordan.
The show's other shining stars are set and costume designer Peter McKintosh, lighting designer Kevin Adams, and sound designer Mic Pool, who find myriad clever ways to recreate the script's numerous locales and crowd scenes, often using only a few small pieces of furniture (and one brilliant scrim).
Ultimately, Hitchcock fans may be the only ones who really need to run to The 39 Steps, but anyone who ascends them will find the climb worth the effort.
Review: 'The 39 Steps'

Charles Edwards and Jennifer Ferrin in 'The 39 Steps,' a comedic take on the 1935 Hitchcock film. Newsday / Ari Mintz / January 3, 2008)
The tall, tweedy Englishman with the pencil mustache is bored - no, positively world weary - from a life of restaurants and parties and, ho-hum, in the far distance, another rumor of war. He considers doing away with himself, but stiffens his standard-issue upper lip and decides to find something to do. "Something mindless and trivial. Something utterly pointless. I know," he says, brightening. "I'll go to the theater!"

It is with such a mindset that "The 39 Steps," which opened last night at the Roundabout Theatre Company, is probably best enjoyed. The diversion, a West End hit that grew from a tiny regional playhouse, is an utterly pointless but physically and conceptually ingenious spoof of Alfred Hitchcock's equally foolish but stylish and dead-serious spy thriller from 1935.

In fact, given the assignment and the material, the extended sketch is as clever as it knows how to be. The dozens of characters - Brits, Scots and nascent Nazis - are all played by just three tirelessly virtuosic actors. The fourth, Charles Edwards, portrays that tweedy Englishman named Richard Hannay, who goes to a music hall and gets seduced by an exotic spy who, before she is murdered, warns him that a "top secret secret" is about to be stolen from England.
Except for the self-conscious new prologue described above, Patrick Barlow's adaptation and Maria Aitken's production are remarkably faithful to the early Hitchcock.

What makes that remarkable is that, with a few impeccably selected props and great hats, the play carries us off on one cliff-hanging chase scene after another, as the dashing Hannay dashes from London to a speeding train to the Scottish moors to a sheep farm to a handsome estate to a provincial political rally to a charming inn and the London Palladium.

Did we mention he also escapes being crushed by the collision of two biplanes and just misses an encounter with the ominously tubby outline of Hitchcock, himself?

For all the distance traveled, ultimately, this is an oddball-style piece with nowhere to go. It is part SCTV, part screwball romantic comedy, with a little of Monty Python's demented silliness and a lot of expert physical comedy, meta-jokes about Hitchcock's greatest hits and even a wink at politicians' obsession with "change."

Do we care? Not much. But there are delicious moments, especially from quick-change, fast-talking accent-artists Cliff Saunders and Arnie Burton. Punched out at a Scottish police station, Saunders falls backward like a plank, flips over his head and bounces back casually to investigate a disturbance at the window. Burton, who looks a bit like Christopher Guest, finds invention within the cliches of a German disguised as an Englishman. Jennifer Ferrin has just the right snarky ingenue spirit as the spy, the lonely farmer's wife and the independent woman who ends up handcuffed to the accused murderer and hero.

And Edwards, the only holdover from the original London production, carries the Robert Donat role as if Hannay were a debonair hawk simultaneously looking for predators and for prey.

This is the sort of production in which characters carry their own window frames, through which they crawl for daring escapes. Costumes and sets, by Peter McKintosh, are a master class in doing a great deal with very little. Shadows loom and suspenseful violins scream. Everyone is extremely good at walking through invisible wind.

We cannot avoid wondering why this self-proclaimed pointless import is produced by Broadway's largest nonprofit theater, with above-the-title credit to almost a dozen other producers and Boston's Huntington Theatre. Guess it is hard times for good times all over.

THE 39 STEPS. Adapted by Patrick Barlow, directed by Maria Aitken. Roundabout Theatre Company, American Airlines Theatre, 227 W. 42nd St., Manhattan, through March 23. Tickets: $51.25- $96.25; 212-719-1300. Seen at Sunday afternoon preview.
Hitchcock classic '39 Steps' is now a killer spoof
Wednesday, January 16th 2008, 4:00 AM
Joe Dziemianowicz